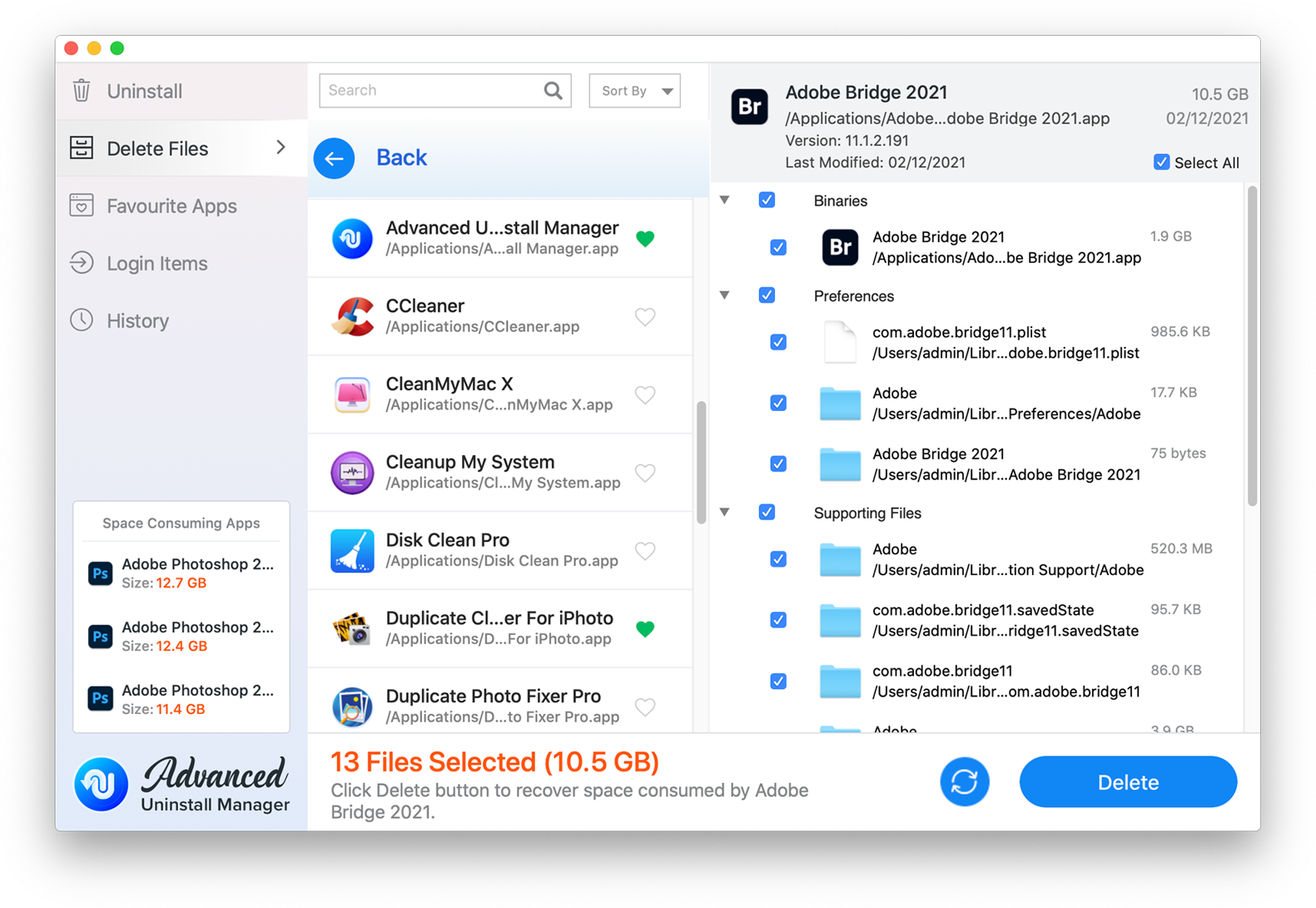 Advanced Uninstall Manager is a robust uninstallation tool designed for Mac users to find & remove multiple apps with their associated leftover files. Using the best app remover for mac, one can easily manage login items by enabling or disabling them, which helps reduce boot time. Additionally, users can also maintain a list of their Favorite Apps; this further prevents any essential application from being accidentally uninstalled.
Product Highlights & Benefits:
Easy-To-Use

Advanced Uninstall Manager has a simple & convenient user interface that makes the entire uninstallation process effortless. You can easily navigate through the dashboard and remove applications, manage login items & so on. Also, get the Delete Files tab to see applications, preference panes, plugins and downloads.

Uninstall Apps Easily

Advanced Uninstall Manager just takes a few clicks to remove applications in one go. It brings powerful functionality and Deep Scan feature that ensures that none of the files associated with the uninstalled software are left behind & clutter your Mac. Files from private folders can be scanned and deleted.

Manage Login Items

Advanced Uninstall Manager allows users to enable/disable login items that impact boot time when you start your Mac. By managing unneeded login items, you can certainly enhance your Mac's startup speed in a few clicks.

Maintain Favourite Apps

Advanced Uninstall Manager features a Favourite Apps section that maintains the list of your favourite applications you do not wish to uninstall.
How to use Advanced Uninstall Manager
Installing and using Advanced Uninstall Manager is a super-easy and straightforward process. All you have to do is, click the Download Now for Mac OS button provided below. You will now be re-directed to the Mac App Store, from where you can get the Advanced Uninstall Manager app.
Download and install this best app uninstaller for Mac to begin the process.

Working Process –
Step 1: Click on the shortcut to launch the Advanced Uninstall Manager.
Step 2: Go to the 'Uninstall' option from the left-hand panel and here you have two options. You can either drag and drop the unwanted application or click 'Start Scan'.
Step 3: Click on the particular application you wish to delete and select 'Delete' from the bottom right corner.
Step 4: Just like the above steps, go to 'Login items' from the left-hand panel. If any unwanted items should be removed, delete them to get an improved performance of Mac.
That's it the selected app will now be uninstalled.